Surveillance patrol , mine detection and removal drone system
– We have developed a system to detect and remove mines by flying drones directly over the danger area of ​​landmines, and developed a drone system for mine detection and removal that can perform tasks dangerous to humans regardless of the environment.
It is necessary to introduce a new concept system to prevent the risk of death and injury that can occur when a person directly enters a landfill site and removes the detection.
Limitation of detection is raised due to the aging of detection and detection equipment depending on manpower expertise.
Reduces operational time and eliminates soldier fatigue by effectively detecting and removing large areas in a short time with a small number of personnel.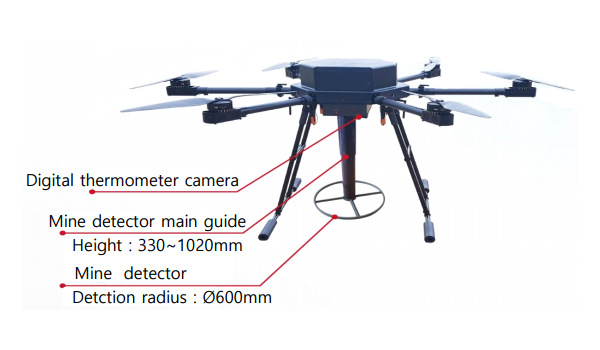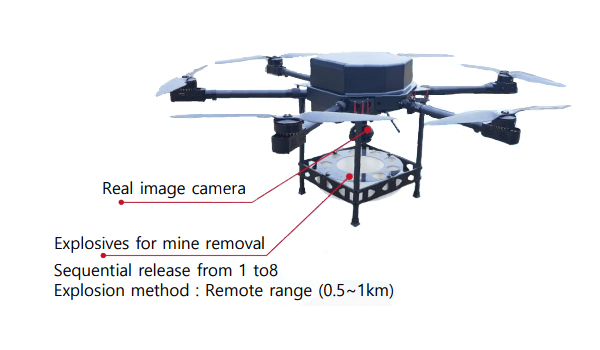 | | |
| --- | --- |
| Product name | Mine detection drone |
| Type | Hexacopter |
| Working time | 30 minute |
| Flying height | Maximum 15m |
| Mine detection height | Maintain 10cm from ground |
| Flying speed | Maximum 50km/h |
| Mine detecting speed | 3.6km/h |
| Payload weight | 2.8kg (maximum 10kg) |
| Battery | 20,000mAh(4EA) |
| Control method | Manual / Auto |
| | |
| --- | --- |
| Product name | Mine detection drone |
| Type | Hexacopter |
| Working time | 30 minute |
| Flying height | Maximum 15m |
| Mine detection height | 10cm from the ground |
| Flying speed | Maximum 50km/h |
| Mine detecting speed | Maximum 30km/h(Safety Speed) |
| Payload weight | 3.5kg (maximum 10kg) |
| Battery | 20,000mAh(4EA) |
| Control method | Manual / Auto |
Accumulation of Unmanned Vehicle Flight Control and Autonomous Technologies
Secured custom mine detection and removal technology for software and interface technology
Economic/Industrial aspect
Reduced social and economic costs due to dangerous work
Possible to enter various commercial drone market
Exposure to hazardous situations and short operating times
Secure platform for different types of mine detection and dangerous goods removal